March 6, 2012 at 12:30 AM ET [Digital Girl] - Francisca Valenzuela had a busy start in 2012 with a country-wide tour of shows in Chile. Her travels also included a very successful visit to Europe. During January 30th, she performed with her band at Morrisons Lounge, in Cannes, as part of the important music fair MIDEM, where she was invited by the Consejo de la Cultura y las Artes from Chile. On February 1st, Francisca performed in Madrid for the first time, at Costello Club, in front of an enthusiastic audience.
In March, the singer-songwriter will continue with her shows abroad. First, she will travel to the U.S., where she will be performing in a series of shows in Los Angeles, California; Miami, Florida; and Austin, Texas. In Austin, she will be presenting three different shows at South by Southwest Music Festival. Francisca will then continue to Mexico, where she will be part of the festival Rock N Exa in Guadalajara -with well known bands like Kinky and Zoe, among others-. She will later present her full show at the famous Vive Latino festival, taking place once again in Mexico City, at the Foro Sol, where she will be performing alongside musical groups like Kasabian, Foster the People, Café Tacvba, and others.
Francisca Valenzuela will also release her second album, Buen Soldado, in March in Spain, country where Francisca will soon return to continue performing and promoting the independent album which is expected to be in stores by March 8th.
Próximas Fechas / Upcoming Shows
March 05 / BMI Acoustic Nite @ Geneghis / Los Angeles,California. USA
March 07 / Sala de Espera Acoustic Nite @ Rbar / LosAngeles, California. USA
March 14 / SXSW - Radiónica @ Radio Day Stage Austin Convention Center / Austin, Texas. USA
March 15 / SXSW - Banda Elástica & Laras @ Buca Lounge / Austin, Texas. USA
March 16 / SXSW - WARP @ Friends / Austin, Texas. USA
March 21 / Rock N Exa / Guadalajara, México
March 24 / Vive Latino 2012 / DF, México
Francisca Valenzuela official website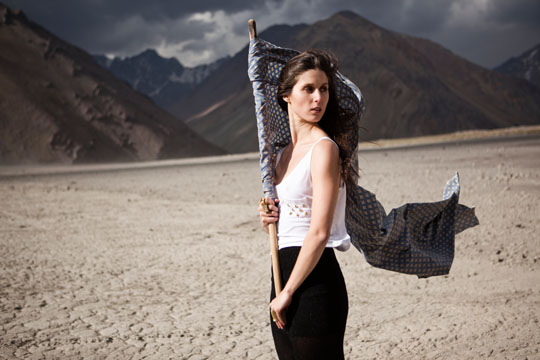 Harvard Law Professor and U.S. Senate candidate Elizabeth Warren lets America's wealthy understand why they need to pay their share of taxes.