January 4, 2011 at 6:30 PM ET - DALLAS - "It's very frustrating," Lorene Turner said. She has spent hours on Facebook trying to find her granddaughter, Jakadrien. "Once I get home I am up until 3 or 4 in the morning searching and looking," Turner said. "It's all I can think about. Finding my baby."

Turner has been searching for Jakadrien since the fall of 2010, when she ran away from home. She was 14 years old and distraught over the loss of her grandfather and her parents' divorce. Turner searched for months for a clue. "God just kept leading me," she said. "I wake up in the middle of the night and do whatever God told me to do, and I found her."

Turner said with the help of Dallas Police, she found her granddaughter in the most unexpected place - Colombia. Where she had mistakenly been deported by U.S. Immigration and Customs Enforcement (ICE) in April of 2011.

"They didn't do their work," Turner said. "How do you deport a teenager and send her to Colombia without a passport, without anything?"

News 8 learned that Jakadrien somehow ended up in Houston, where she was arrested by Houston police for theft. She gave Houston police a fake name. When police in Houston ran that name, it belonged to a 22-year-old illegal immigrant from Colombia, who had warrants for her arrest. So ICE officials stepped in.

News 8 has learned ICE took the girl's fingerprints, but somehow didn't confirm her identity and deported her to Colombia, where the Colombian government gave her a work card and released her. "She talked about how they had her working in this big house cleaning all day, and how tired she was," Turner said.

Through her granddaughter's Facebook messages, Turner says she tracked Jakadrian down. U.S. Federal authorities got an address. U.S. Embassy officials in Colombia asked police to pick her up. But that was a month ago, and the Colombian government now has her in a detention facility and won't release her, despite her family's request. "I feel like she will come home," the grandmother said with tears in her eyes. "I just need help and prayer."

There are still many unanswered questions about how an African-American girl who speaks no Spanish is mistaken for a foreign national. Immigration officials are investigating and released a statement late Tuesday.

"ICE takes these allegations very seriously," said ICE Director of Public Affairs Brian Hale. " At the direction of [the Department of Homeland Security], ICE is fully and immediately investigating this matter in order to expeditiously determine the facts of this case."

Source by Rebecca Lopez for WFAA
`
12/16/11 at 4:42AM - Hours after the release of a Justice Department report that said that Arizona Sheriff Joe Arpaio fueled a culture of anti-Latino bias in his office, the Department of Homeland Security said it was kicking him out of an immigration enforcement program.
Secretary Janet Napolitano said Thursday the department is ending an agreement with the Maricopa County sheriff's office that allowed trained deputies to enforce immigration laws.
It's also restricting the office's use of the Secure Communities program, which uses fingerprints collected in local jails to identify undocumented immigrants.
Napolitano's announcement came shortly after the Justice Department released a scathing report accusing Sheriff Joe Arpaio and his office of committing a wide range of civil rights violations against Latinos.
The report, which includes findings from a three-year investigation by the federal agency, says the Arizona sheriff's office engaged in a pattern of racial profiling and discrimination, and carried out heavy-handed immigration patrols based on racially charged citizen complaints
"Sheriff Joe Arpaio's blatant disregard for the rule of law is nothing short of appalling," said Dan Werner, deputy legal director for the Southern Poverty Law Center. "Sadly, though, the Department of Justice's findings of serious constitutional violations are not surprising given his celebrity status among those who have been peddling and successfully passing unconstitutional anti-immigrant laws in several states."
Apart from the civil rights probe, a federal grand jury also has been investigating Arpaio's office on criminal abuse-of-power allegations since at least December 2009 and is specifically examining the investigative work of the sheriff's anti-public corruption squad.
The civil rights report said federal authorities will continue to investigate complaints of deputies using excessive force against Latinos, whether the sheriff's immigration efforts damage trust with the Hispanic community and a large number of sex-crimes cases that were assigned to the agency but weren't followed up on or investigated at all.
The civil rights said Latinos are four to nine times more likely to be stopped in traffic stops in Maricopa County than non-Latinos and that the agency's immigration policies treat Latinos as if they are all in the country illegally.
A review done as part of the investigation found that 20 percent of traffic reports handled by Arpaio's immigrant-smuggling squad from March 2006 to March 2009 were stops -- almost all involving Latino drivers -- that were done without reasonable suspicion. The squad's stops rarely led to smuggling arrests.
Meanwhile, calls for Arpaio's removal from office have grown louder in recent weeks.
Critics of Arpaio say he must be forced out for failing to adequately investigate more than 400 sex-crimes cases in the county, inappropriately spending $103 million from two jail funds over an eight-year period for other operations and leading failed corruption investigations against county officials who were at odds with the sheriff.
This story is based on reporting by The Associated Press.
Source Article at Fox News Latino
Manny Pacquiao defeats Juan Manuel Marquez in a majority decision. The judges scored it 114-114; 115-113; 116-112.
Manny Pacquiao states of the boos in the crowd "Of course they're unhappy, they're fans of Marquez. But I clearly won the fight."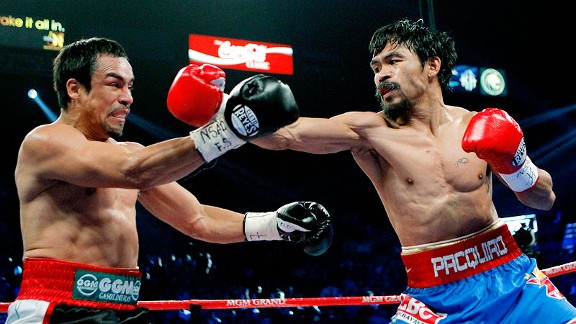 AP Photo / Jae C. Hong
11/7/11 - Michael Jackson's personal physician has been found guilty of involuntary manslaughter for causing the pop icon's 2009 death by a powerful surgical anesthetic.

The verdict against Dr. Conrad Murray comes after a jury of seven men and five women deliberated for about nine hours over two days. The 58-year-old cardiologist, who was charged with the lowest possible homicide offense, faces a maximum sentence of four years in state prison and a minimum sentence of probation.

Murray now also faces the probable loss of his medical license. California authorities already suspended his right to practice, but medical boards in Nevada and Texas agreed to wait to evaluate licenses he holds in their states until after the criminal case.

Over a four-week case, prosecutors painted Murray as a deceptive and incompetent doctor who abandoned his medical judgment in complying with Jackson's request to be given a surgical anesthetic to put him to sleep.

Witnesses testified to many egregious medical missteps -– giving propofol in an unmonitored setting, fumbling at basic resuscitation, keeping no records –- failures that experts said directly led to Jackson's overdose death.

As his famed patient stopped breathing and suffered cardiac arrest under the influence of propofol, jurors were told, the doctor chatted on the phone and sent and received email and text messages. And in the crucial moments after he discovered the singer had stopped breathing, he delayed calling for help and lied to paramedics and emergency doctors, witnesses said.

Central to the government's case were the doctor's own words from a police interview two days after Jackson's death. In the 2-1/2-hour tape, Murray admitted to giving the singer the propofol -– caving after Jackson repeatedly begged for it, he said -– as well as two other drugs earlier in the day.

Admissions in the interview were enough evidence enough of the doctor's guilt, witnesses said. But the prosecution's star witness also said levels of the drug found during an autopsy showed Murray lied about how much propofol he administered. Dr. Steven Shafer, a renowned anesthesiologist and propofol expert, said the only plausible scenario was that Murray left a large drip of of the anesthetic running into Jackson's blood after he was dead.

The doctor's defense presented to jurors an alternate theory pointing the blame at Jackson himself. Under mounting pressure to perform and addicted to a painkiller that rendered him completely unable to sleep, the pop star swallowed a sedative and injected himself with propofol -– a mixture that killed him instantly, they contended.

No defense witness, however, addressed head-on a point the prosecution's medical experts repeatedly drove home: that even if Jackson died by his own hand, Murray was equally liable for leaving Jackson alone.

Defense attorneys called to the stand former patients of Murray's who countered the government's portrayal, calling him a caring, skilled physician who treated low-income patients for free.
Mariah Yeater claims Tristyn Anthony Markhouse Yeater is Justin Bieber's secret love child. And that Bieber is also a two-pump chump.
Yeater claims that she was at the Staples Center on the night of October 25, 2010, where Bieber had just performed a sold-out show.

A security guard allegedly working for Bieber approached Yeater, asking if she wanted to meet the pop star. She said yes, and the security guard escorted her backstage, where she met Bieber.

"Immediately, it was obvious that we were mutually attracted to one another, and we began to kiss." Yeater hand-wrote in her complaint. "Shortly thereafter, Justin Bieber suggested that I go with him to a private place where we could be alone. I agreed to go with him and on the walk to a private area, he told me he wanted to make love to me and this was going to be his first time."

The "private area" in question was allegedly a bathroom. "We went inside and immediately his personality changed drastically," claimed Yeater. "He began touching me and repeatedly said he wanted to (expletive) the (expletive) out of me. At the time I asked him to put a condom for protection, but he insisted that he did not want to. In his own words, he said that because it was his first time he wanted to feel everything."

Justin then "quickly took off" Yeater's clothes and the pair had sex, the suit alleges.
Sworn under the penalty of perjury, Yeater said in court papers: "He was on top of me with my legs around him. At the time I was on top of some type of shelf. The sexual intercourse itself was brief, lasting only approximately 30 seconds."